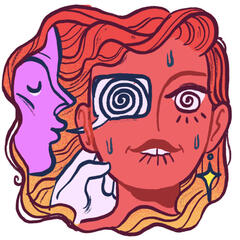 Michal Daveed,
AKA GleefulAbandon
GleefulAbandon (she/her) is a queer, submissive hypnofetishist. She has been in the BDSM/Hypnokink Scene in 2012, and shares her love for her kink and community with writing and other projects. Stay tuned for her first book!
Writing
Michal is currently working on a book about the history of the eroticization of hypnosis. Watch this space for more info!
---
Appearances
Michal teaches at national BDSM and hypnokink events. She is also a spokesperson for The Eulenspiegel Society, the longest-running BDSM organization in North America.
You can catch personal interviews with Michal below.